Present to you
Webinar Summary
On 13 December, we conducted our first webinar- How do YOU choose? For all who missed it, fret not! This article has all the key points shared by our speakers!

Key points by Mrs Tan Wai Lan
We started the webinar with Mrs Tan Wai Lan's (the current Coordinating Divisional Director of Communications and Engagement Group at MOE, and the former principal of CHIJ St. Nicholas Girls School) sharing.
Mrs Tan shared on how to choose a suitable post-secondary pathway and the differences between the various post-secondary pathways- Junior College, Polytechnic, Institute of Technical Education(ITE) and Arts Institution.

As Mrs Tan shared, in this day and age, adaptability is key. Also, feelings of being overwhelmed with emotions is typical when one is collecting their O level results.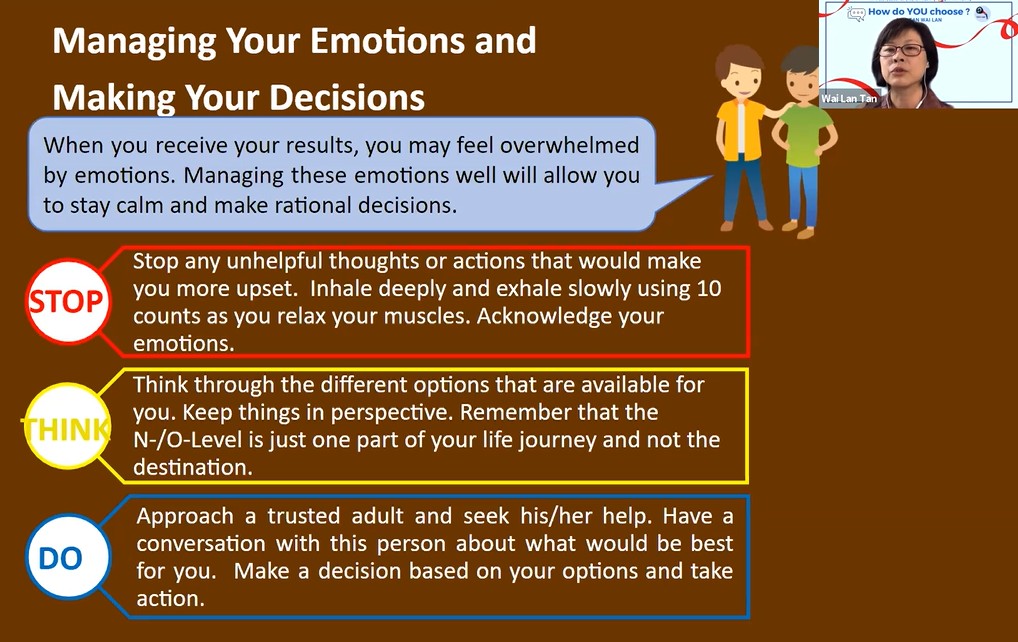 However, one should Stop, Think and Do
- Stop any unhelpful thoughts or actions that would make you more upset
- Think through the different options available
- Do approach a trusted adult and seek his/her help by having a conversation.
So, there are 3 questions to help you decide which post-secondary institution suits you.
-

"Who am I?"

- Dreams, goals, strengths, interests
-

"Where do I want to go?"

- Education pathway
-

"How do I get there?"
Then, what is the difference between the various post-secondary tracks?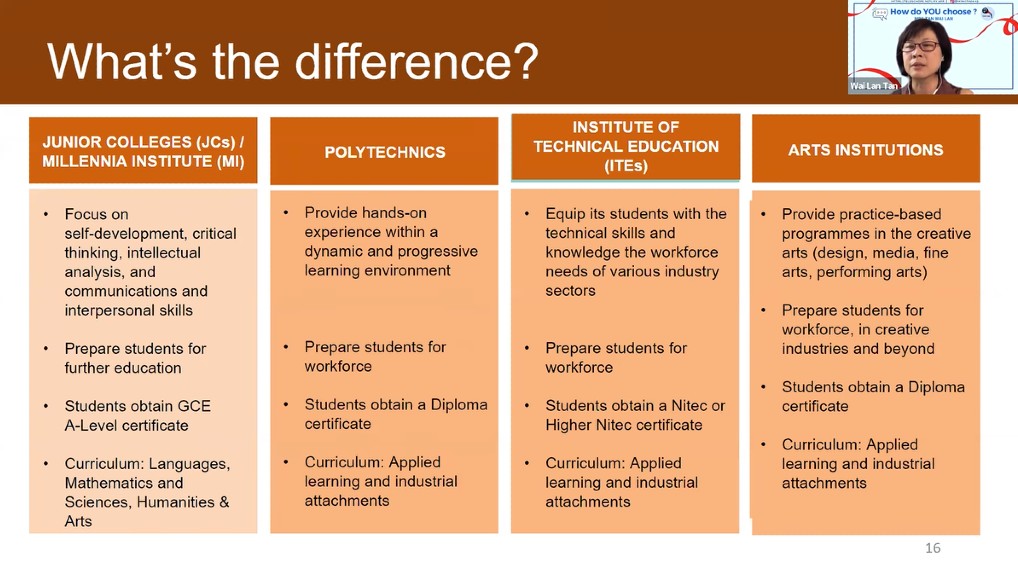 To figure out more about yourself and each post-secondary track, you may head to
Key points by Arianne See
Next up, we had our second speaker, Arianne See from Hwa Chong Institution. Arianne shared that her main reasons for choosing Hwa Chong were
1. Seniors were very open and friendly
2. The environment is nice, people are always willing to help
3. She felt like she could learn beyond the textbook, and hence push herself academically
4. She will be surrounded by hardworking individuals which will motivate her to become better as well.
As for the differences between academics in Secondary School and JC, she felt that
- For Biology, there was a lot more content taught within the shorter period of time and a lot of content to revise
- For Chemistry, the content was much more complex and deeper
- For Math, there was quite a lot of extensions from Secondary School topics and some new chapters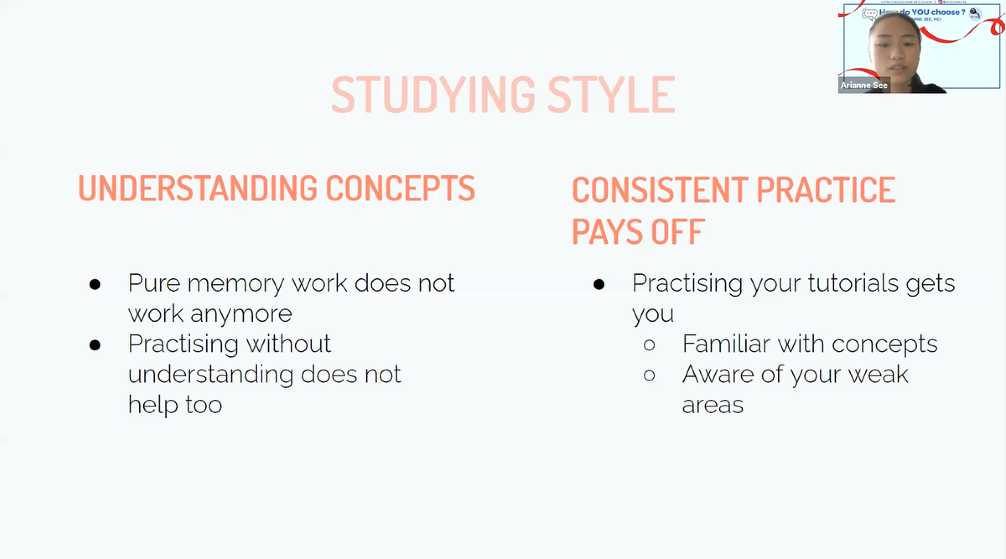 With that, Arianne shared 3 main study tips
1.

Understand the concepts

, pure memory or practicing without understanding does not work
2. Do

consistent practice

3. Look for your tutors for

consultation
When sharing about Hwa Chong's School culture, she used phrases like "Feels like home", "Inclusive", "Motivational", "Driven", "Study hard, play hard". We are sure you can get a rough idea on Hwa Chong's culture from these phrases! 😉

She also mentioned that Hwa Chong has various school events, CCA opportunities(Open training to try out all the CCAs), leadership opportunities and service opportunities.

Some things she did not expect when coming to Hwa Chong, however, was:
- She has friends

from other ethnicities

and not everyone's Chinese is top notch!
- It is more of a

collaborative environment

than a competitive environment and her friends are very patient and willing to help her academically.
And with that, she concluded her sharing.
Key points by Ace
Ace from Dunman High then took the baton to share his experience in Dunman High.

He chose the Junior College track as he believes JC gives you freedom to choose his future career, while for Polytechnics, the interest and career might be locked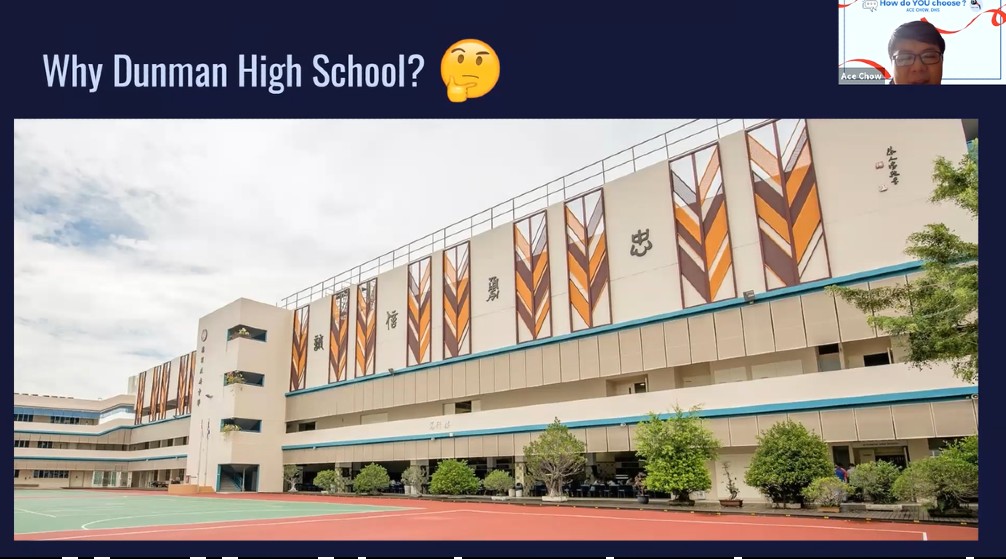 Regarding Dunman High, Ace described its school culture as "very bonded" and "a second home". He also mentioned that Dunmannians are very friendly and hardworking.

Regarding the school environment, he introduced some key facilities of the school, namely the garden, library and hostel.

As for differences between secondary school life and JC life, Ace named a few:
1.

Lectures

instead of classroom lessons
2. Teachers are

more open and friendly

with students(some even interact as friends!)
3. Your academics are in your own hands (eg. Lecturers will not stop students from not listening to the class)
4.

No textbooks

- only notes by own school
5. Learn at your

own pace

6. Smaller class size - Students will be able to

immediately get help

if needed
Lastly, Ace introduced some perks of being a Dunmanian, mostly related to their school email:)
Key points by Dexter
Following Ace, Dexter from ITE College Central shared with our participants. As a student who went to NS before coming back to ITE, he definitely had a lot of life experience which he gladly shared with all.
In ITE, he was provided with many opportunities, from sports to leadership to CIP and immersion trips to mentorships etc. He was also blessed with the opportunity to meet prominent national figures like the architect of his college and our President, Mdm Halimah Yacob. Other events he attended thus far include Singapore Youth Conference and ASEAN Environmental Forum.

When sharing the differences between Secondary School and ITE, he identified the culture. In Secondary Schools, there was a care culture. However, in ITE, there is an expected ownership in students. There is no spoon feeding, students choose what they want to pursue and what type of life they like.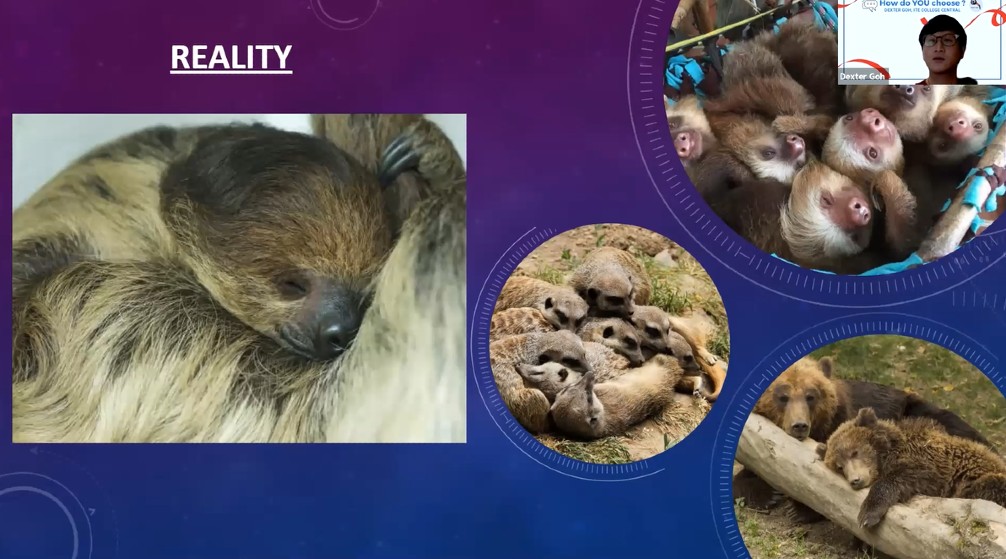 Something he didn't expect when he entered ITE was how everyone is mellow, acceptable and respectful. Something he truly experienced and learnt in ITE is that if one decides to care about his/her studies for his/her future, then the ITE environment and teachers will be willing to care for him/her. He also learnt that the environment is set by you and not the other way around.
Key points by Sean
With Dexter concluding his sharing, Sean from Singapore Polytechnic took the stage. Sean went through the JAE route before taking the DAE route.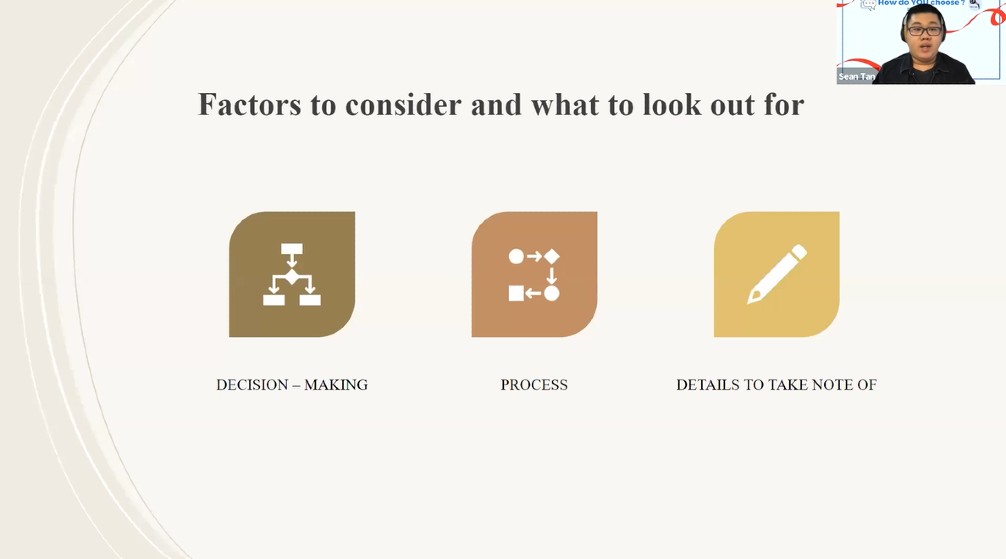 What he learnt from this experience of changing polytechnics is:
1.

JAE is a pivotal moment

in the education pathways where

you need to consider your future career, interests, the culture of the school you are going to choose and the course

. Every school has its own culture and this will surely affect your experience in that school. A crucial advice Sean gave is: Never join a school only because you have friends there.


2. However, even if you enter a school that doesn't fit you, it is

not the end of the world

. DAE exists!
For DAE students, they are not given priority over JAE students. Instead, it is the remaining slots after JAE students that are provided for DAE students. Of course, going through DAE would mean studying 1 more year so one will have to decide whether it is worth it, and for Sean personally, it was surely worth it.

Moving on, Sean spoke about the contrast between Secondary School life and Polytechnic life.
1. In secondary schools, many things are spoon-fed, but for polytechnics, you need to

get information yourself

.
2. Many things are about

teamwork and projects
Key points by Reanee
Last but not least, Reanee from Ngee Ann Polytechnic shared reasons behind her choice to go to Polytechnic, specifically Ngee Ann, and the course, Cybersecurity, how she juggles school and work, Ngee Ann's culture and surprises!

Her reasons to choose the Polytechnic route and Cybersecurity course include:
Work


a. Wanted to

work as soon as possible

and Polytechnic will equip her with

the necessary skill




Job opportunities


a. Poly ensures students are

job-ready


b. Internship gives students opportunities to realise

whether the course / career is something they want


c.

High demand

of cybersecurity precessions



Increase

in cybersecurity attack
a.

Personal interest


b. Time to

take actions
Then why specifically Ngee Ann Poly?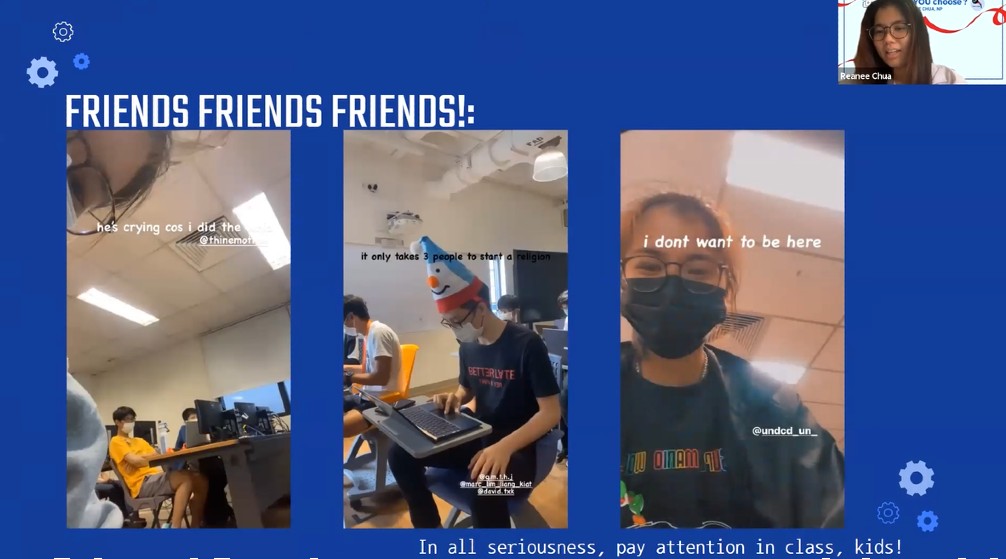 1. The vibe
a. The

most comprehensive

school website
b. Enjoyed the

open house



2. Attended NYP lectures previously and found that the teaching style did not suit her
3.

Flipped Classroom

- students share what they have learnt with the class
As for workload, for Cybersecurity specifically, it is seasonal where she will have weekly assignments. There could be projects due in one week, there could be multiple tests in 1 week and sometimes she can be quite free.

As a student who works part-time, she juggles with school and work by trying to do her schoolwork everyday, especially on HBL days. On Fridays(where she only has lessons from 8 to 10am) and Saturdays, she will work. Other than that, her time is dedicated to school, rest and her social life. One key tip she has to students who wish to juggle both sides well is to know your priorities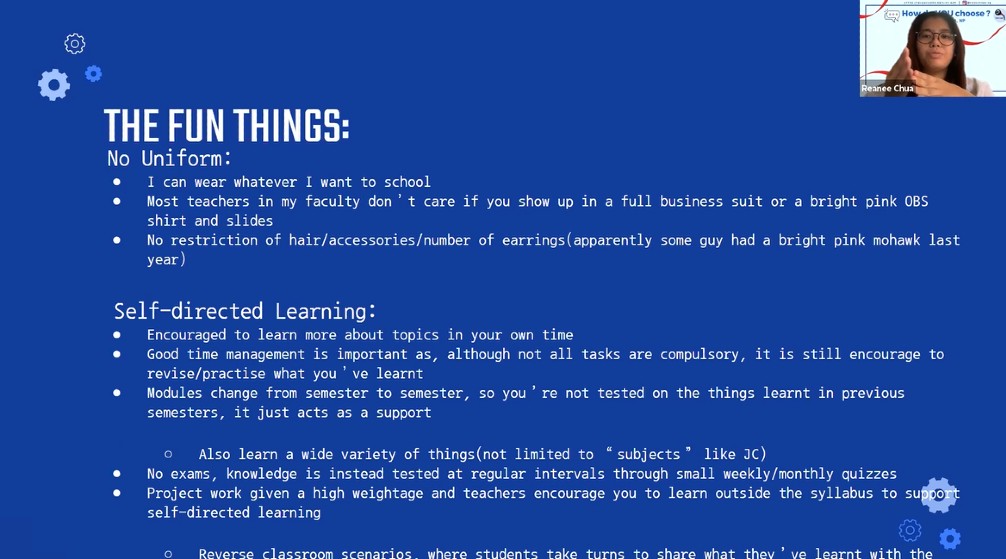 Something she did not really expect when she entered Polytechnic is:
1.

Self-directed learning


a. Teachers encourage students to

learn more than required



2. Module changes every semester
a. Every year has

4-6 new modules



3.

No exams


a. Small quizzes and common test weeks


4. Weightage will be on

project work



5.

CCA is not compulsory


a.

Engagement is low except there are

events planned
b. Allow students to put more time in learning or other projects


6.

Very challenging

to get good grades
a. Need to put in

quite a lot of effort

for research and projects


7. Teachers are very

friendly and supportive

, giving advice not just about academics but life in general as well